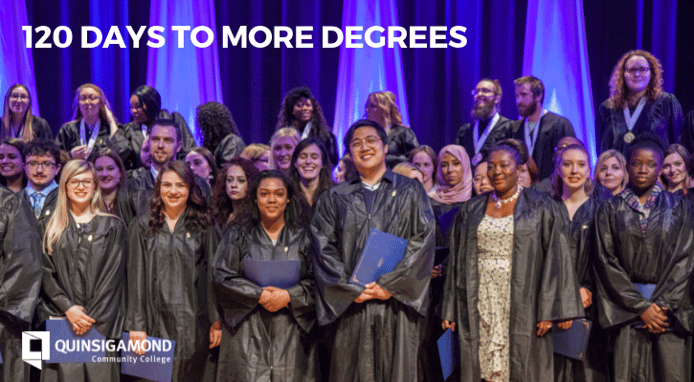 A lot can change in 120 days, and it will. The average high in Worcester on May 23 is 68 degrees, the average low is 49 degrees. The look outside your window, the feeling of fresh, sunny air and quite possibly another type of degree. A professional degree that could change your life forever.
Some of you are returning to school after a chilly Winter break, some are likely coming to school for the first time or returning after a long time. No matter which category best describes you, 120 days from now you will have either reached a goal or a milestone. Your decision to attend college and pursue a degree has contributed to the latest study, showing that Massachusetts is the most educated state in the America. That's right, a new report from WalletHub ranked Massachusetts #1 in educational attainment and #1 in quality of education.
So, as you begin your march towards mid-terms, finals week and completion of your degree or certificate, we want to make it as easy as possible. What do you need to know about life, events, tutoring and other resources at QCC? Here's a few things we hope you will find useful:
Stay Informed
Even though we are all dreaming of Spring, there's still a chance of a few snow days this semester. If you want to be the first to know,

download the

QCC app for campus alerts, access to Qmail and... your grades!
The Official Calendars
Academic Calendar - Now that you're here, keep track of when you shouldn't be :). Complete with holidays, Add/Drop periods, Spring break and more.
Events Calendar - Looking for something to do? Athletic schedules, testing hours, transfer sessions, Welcome Week activities and all things QCC.
Study Breaks
Athletic Center - Take advantage of classes, facilities and equipment to stay active before, after or between classes. Membership is free to all students, faculty and staff.
Join a team - Stay competitive. Find out how what teams are available and how to join.
Student Discounts - Save on movie tickets, hair cuts, food, yoga, and rock climbing.
Additional Resources
As always, you can learn more about additional campus resources online at www.qcc.edu.
We look forward to seeing you on campus and of course on Thursday, May 23 at Commencement. Best of luck this semester!