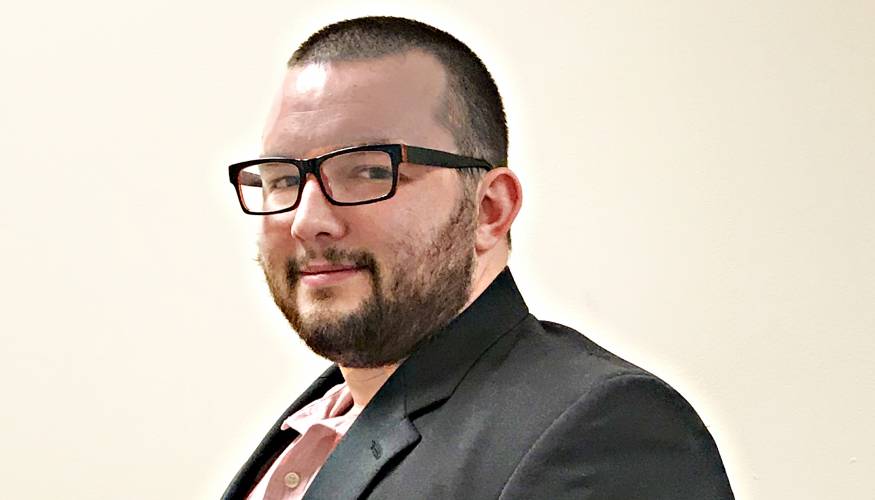 Sometimes, just when you think you have your life figured out, something goes awry. That was the case for Josh Biernacki, a QCC graduate who had planned to join the Marines after high school. Today, the Marines are a distant memory and he's poised to begin the next chapter in his life as a high level technical recruiter for an IT consulting and recruiting firm in Boston.
Josh went to the Military Entrance Processing Station (MEPS) to begin the enlistment process, that's when he learned that something he had lived with his entire life would become an obstacle. Josh is deaf in one ear, which requires a lot of additional waivers and paperwork in order to be considered for the Marines. Not wanting to hold up his life while he went through the lengthy process, he decided on a different path. Two days before the semester began he enrolled at Quinsigamond Community College in the General Studies Mathematics program.
"There are infinite opportunities and you'll save yourself so much money. I wasn't sure what I wanted to do when I first came here. I wasn't a people person.This school opened the doors for me to be able to learn book skills and people skills," he said."Personal growth was everything to me at QCC."
Josh had been bullied from middle school through high school, which led to him not being as social as he would have liked to be. When he enrolled at QCC, he made the conscience decision to change this behavior. So, he broke out of his shell and got involved.
"The first or second week of classes the college had a Club Fair that I went to and it was there that I decided to run for Student Senate. It was at the Club Fair that things started to click for me and I knew I had to introduce myself to people. My goal was to go and meet 15 new people each day," he said. "To this day I have lifelong friends from that journey."
He became an active member of student life while taking classes and working three jobs. One of those jobs was in the fitness world, an area he still enjoys today, working part-time as a trainer.
During his time on campus he was the Student Senate Treasurer (2010); Student Senate President (2011); Student Trustee (2012, 2013); a member of the Massachusetts Community College Trustees Association (2011-2013); QCC's Representative on the Student Advisory Council to the Massachusetts Board of Higher Education (2011-2013) and he served as President of the Student Advisory Council. He also was the Student Representative on the Governance Review Team, a QCC Student Ambassador, on the 2011-2012 nationally placing math team, a Student Orientation Leader, and the Student Representative on the All College Committee.
As someone who once described himself as, "never really getting along with anyone," he had become one of QCC's best advocates and a shining example for others. He attributes his success to the many mentors he had, from Maureen Giacobbe in Career Services, to Cheryl Pike from Student Life, former college President Gail Carberry, Joseph Adams in TRIO, Mishawn Davis-Eyene in Admissions, and alum David Chapin Jr., former student trustee and current QCC Guardian.
"Everyone gave me so much time and personal attention. It was amazing. The staff really cares. What I learned here I can relate it to wherever I go. I always tell people that without QCC, I wouldn't be anywhere near where I am today," he said. "Here you are not a number… you are never a number."
Josh graduated with two associate degrees, one in Business Administration and one in General Studies Mathematics. For several years he worked in sales and management positions at numerous companies (and was offered every job he had interviewed for), before realizing his true passion – to work closely with people and to help them find their ideal job. In fact, he recently came back to school to attend the Career Fair, however this time, he was the one doing the recruiting.
"In my previous position at QCC, I worked in the Career Services Office. During that time, I had the privilege of meeting, and getting to know, Josh. From the moment I met him, his tremendous motivation and enthusiasm were evident. It was that drive which brought him to the Career Services Office often, to pursue internships, job opportunities, or to update his resume. I recently reconnected with him when he was visiting QCC as a recruiter and am happy to say he still embodies the greatest personal and professional attributes a person could offer," said Coordinator of Instructional Technology & Assessment Maureen Giacobbe. "I am confident Josh will succeed in any goal he pursues."