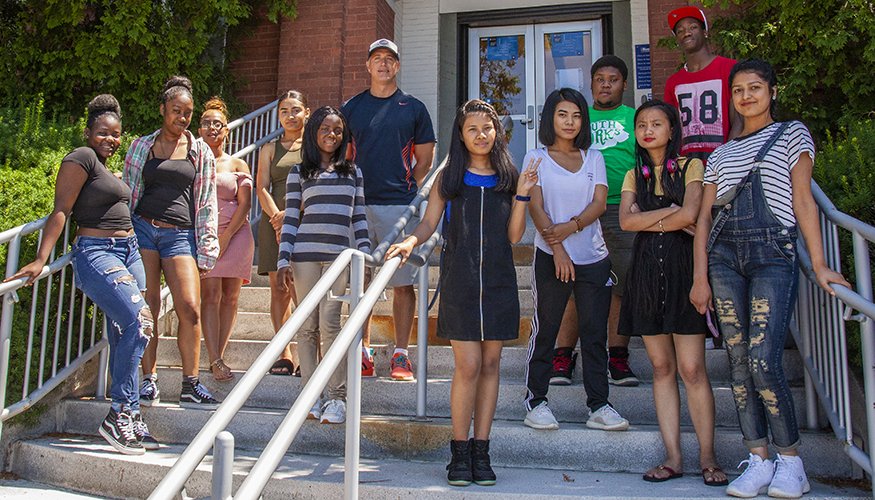 [Worcester Public Schools College Community Connection students stand with their instructor James Kett (center).]
Something you may not know about QCC is that we've been working with Worcester high school students for more than 15 years. We work with high school students in many ways, but our participation in the Worcester Public Schools College Community Connection Program gives them a taste of college, and a summer job!
Here's how it works... Any Worcester high school student entering their senior year and has not passed the MCAS (a Massachusetts Comprehensive Assessment system test needed for graduation), may apply. They are offered spots in the two week summer program on a first-come, first-serve basis. Students join us on campus for academic support, mentoring services and even a paid internship! Once they have completed the program, they are given another chance to pass the MCAS.
Students from Burncoat, Doherty, South High, North High and Worcester Technical High School spent two weeks on our Worcester campus this summer. Group size tends to fluctuate from large to small depending on the year. This year we had 11 Worcester high school students who are originally from all over the world... Nepal, Liberia, Central African Republic, Haiti and Ghana.
"In the summer students are often forced to choose between working and learning.This program combines the two, providing an invaluable resource to our most at-risk students," said Stephanie Stockwell, Worcester Public Schools Secondary Summer School Coordinator.
James Kett is a Math teacher at Worcester Technical High School, as well as the program's instructor. He's been part of the College Community Connection program since the partnership with Worcester Public Schools first started.
"We have many students who have a language barrier when it comes to taking the MCAS," he said. "Very rarely are we dealing with English as a first language."
In many cases, English is not their first language and could very well be part of the reason why they weren't able to pass the MCAS the first time. With this in mind, Mr. Kett spends the mornings working on math and ESL before they head off to various departments (Admissions, Athletic Center, Media Services, Student Life and Maintenance) on campus for the internship part of the day.
Alina Tamang (South High student) told us that she never really liked math before coming to the program, but that's no longer the case. Why the change of heart? Alina credits the program, as well as Mr. Kett's teaching style.
"It's good to learn something new and it was fun," she said.
"This has been a positive experience for sure," said QCC's Site Coordinator, Donna Harvey. "This is a great partnership for the students and for us. Each department enjoys having the students and they learn a lot."
According to both Donna Harvey and James Kett, several of the students who went through the program have gone on to college, some have even attended QCC.
"This program gives them a chance to be familiar with QCC," Mr. Kett said.
"QCC is a wonderful partner in this program. The Worcester Public Schools value this long-standing partnership," Ms. Stockwell said. "The students love being on a college campus and getting real work experience through the internships."
Interested in attending QCC? Learn more about our programs starting this Fall!