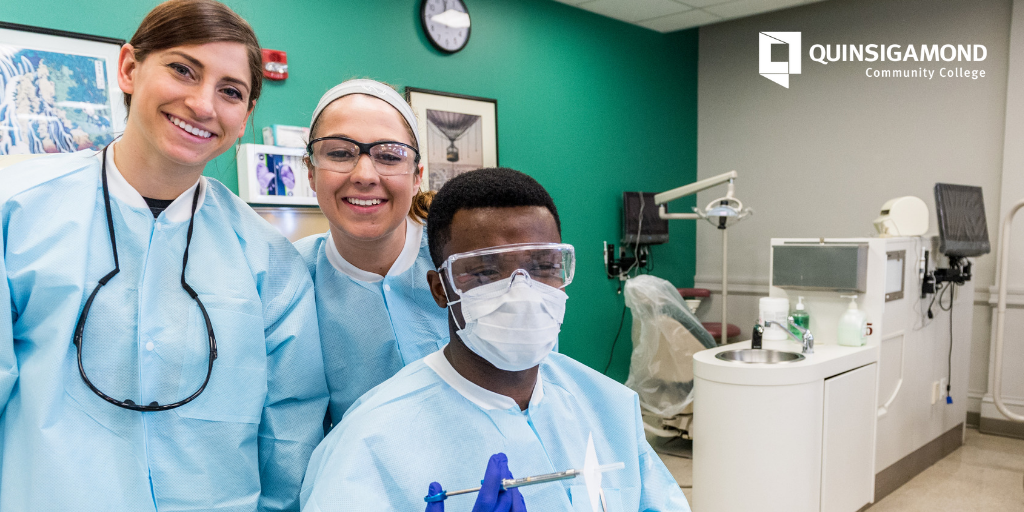 They say a smile is worth a thousand words and students at Quinsigamond Community College's Dental Hygiene Clinic, (main campus) are in total agreement. Since the doors opened in 1972 (updated in 1999), dental hygiene and dental assisting students have had the opportunity to administer affordable dental hygiene care to Worcester and the surrounding communities. It's proven to be an invaluable resource to students as well as those seeking lower cost alternatives for dental care.
It's truly a hands-on, state-of-the-art training facility where students work directly with patients. The programs accredited by the Commission on Dental Accreditation have become so popular that often there is a waiting list. However, with rolling admissions, even with a waiting list, it's just like getting in line. When a spot opens up, it's offered to the next aspiring dental student. If they have already chosen another major, then it's on to the next and students say it's absolutely worth the wait.
"Our students treat patients directly and are overseen by faculty, two supervising dentists, and one dentist who comes in on Fridays to work with our dental assistant students," said Dental Clinic Operations and Facilities Manager, Sheryl Ficorilli.
Here's how it works... New patients are screened and accessed (at no cost) to determine the level of care required. They develop a course of treatment based on the assessment and book appointments. Each new patient is assigned a student and that student works with them throughout the treatment or until the student graduates. They become familiar with each other, as well as with the situation.
"The Clinic not only offers a learning environment for our students, but also offers patients great dental hygiene care for extremely affordable prices. It's the ideal partnership," Ms. Ficorilli said.
According to QCC Professor of Dental Hygiene Jane Gauthier, a cleaning and x-rays in the Northeast can average anywhere from $125- $200 or even higher, whereas at our clinic those same services cost $25. Not only does the clinic accept Mass Health, but services are free for veterans and active duty military. What about everyone else? Pricing starts at just $10. Click here for services, pricing and information on how to make an appointment.
So, what does the faculty and staff at our Dental Clinic want you to know about oral hygiene? Here's 7 ways you can brush up on your oral hygiene routine from Clinic Operations Manager, Sheryl Ficorelli:
Replace at least ½ of your sugary drinks with water each day.
Flossing once a day helps prevent gum disease and cavities.
Brush for 2 minutes and set a timer. You won't believe how much more time you should actually spend brushing your teeth.
Did you know plain dark chocolate and cheese fights cavities? You don't have to eat them together ;)
Replace your toothbrush every 3 months... or sooner if it's worn.
A clean mouth contributes to a healthy body. Bacteria in gum disease has been linked to heart disease and other systemic diseases.
Every time sugar enters your mouth there is an acid attack on your enamel that lasts approximately 40 minutes.
So, now you know! There is low cost, quality dental care available. Give us a call!
Want to learn more or apply to one of our dental programs?
The Clinic closely adheres to Centers for Disease Control and Prevention infection control guidelines regarding safety and sterilization procedures and follows HIPAA regulations in maintaining confidentiality of patient information. A complete list of hours and pricing can be found at QCC's Dental Health Clinic. For more information or to schedule an appointment call, 508.854.4306.