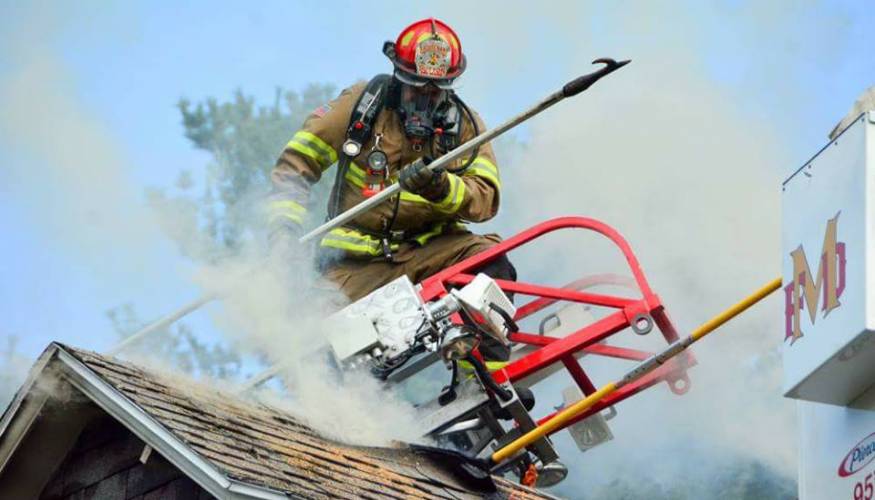 Sutton Fire District Chief Robin Dresser is living proof that mother really does know best. The Chief is a graduate of the Fire Science program at Quinsigamond Community College, class of 2005 and he says it was all his mom's idea. Chief Dresser's mom (Edna) is also a QCC grad, she received her Accounting degree with the class of 1978. So... when her son was looking for a school, she knew exactly what to suggest.
"Growing up I had always wanted to get into public service- be it firefighter or police officer. When I hit my early teens I decided I wanted to be a firefighter," he said.
Robin knew he wanted to get into fire science, but that his choices would be limited because it wasn't offered as a degree option at many schools... not within a reasonable driving distance, anyway.
"I didn't want a mess of student loans and at the time spending a lot money on a degree and then going into an entry-level position didn't make sense," he said. That's when mom chimed in and suggested he take a look at what he could get at QCC. "They did offer fire science as a major, so it worked out well," he said.
While being a firefighter does not require a degree, Robin said most communities require some form of degree in order to advance. If you wanted to move up the 'ladder', be eligible for pay increases, promotions, and achieve other career goals, a degree is a good thing to have. When you have the opportunity to get it done without any debt, you really can't go wrong.
"The class schedule worked out for me, since I was working full time while attending. I had some day classes, but most of the classes had been evening classes," he said, adding that the professors he had were all either current or retired from the fire science industry.

"They were not just instructors, they lived being firefighters and experienced it personally," he said.
After graduation Robin went right into the workforce, having already been a call firefighter with the Sutton Fire Department.
"In 2005 I applied for full-time at the department and was hired. I have continued to move up in rank and this past May was promoted to District Chief," he said, adding that while it wasn't necessary for him to have a degree within his department it was "a bonus and helped me out."
Mr. Dresser said he does plan to one day continue his education and obtain his bachelor's degree, but will stay in the fire science field.
"I'm happy with what I do. I love my job and love going to work every day," he added.
*Photos courtesy of the Sutton Fire Department.