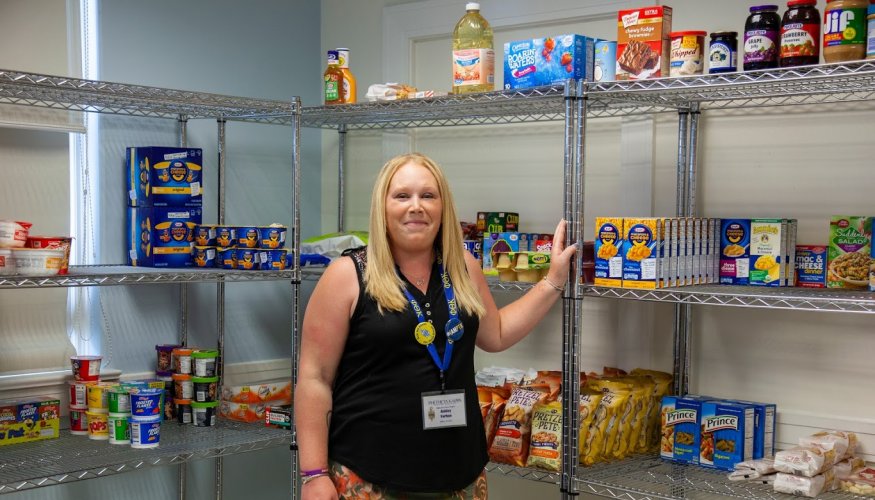 [Pictured Above: PTK student Ashley Forhan, food pantry manager]
The USDA defines food insecurity as a state in which "consistent access to adequate food is limited by a lack of money and other resources at times during the year." Other terms for food insecurity are "struggling to avoid hunger," "hungry, or at risk of hunger," and "hungry, or faced by the threat of hunger."
According to an April 2018 survey*, 42% of community college students had experienced food insecurity within the last 30 days. A 2017 report released by The Urban Institute found that nearly 1 in 5 two-year college students lived in a food-insecure household. At QCC, a 2016 Hunger Survey found the following:
57% of students either cut or skipped meals due to budgetary concerns
49% were hungry but didn't eat
64% of ran out of food in a 30-day period and could not afford more
It's no secret that hunger is a global, national and local issue. So, in an effort aid our students, QCC opened it's first-ever food pantry on campus. Stocked with non-perishable items and limited amounts of fresh grown produce, students (with a valid ID) are able to stop by for food to bring home to their families or a snack to eat between classes. And yes, we said FRESH PRODUCE. Our campus is fortunate enough to have a fully functioning "Live & Learn Greenhouse", run by Phi Theta Kappa (International Honor Society) students.
"Food insecurity is a problem not only on our campus, but also on a national level," said QCC's Dean of Students, Terry Vecchio.

"This is something we cannot ignore," said QCC President Dr. Luis G. Pedraja. "We must all work together to fight against this growing issue."
PTK Officer-at-Large student Ashley Forhan is tasked with managing the food pantry. There were times in Ashley's life where she had experienced food insecurities, which make her especially pleased to be asked to play such a large role in this project.
"This is a perfect way to give back to my community. There is such a need for this. I'm really excited that we are able to offer this type of service at QCC," she said. "We hope to reach as many people as possible in need, as well as provide visitors with nutritional information that can be used in their own grocery shopping."
QCC held a food drive and received private donations to get it up and running. Going forward, it will be stocked completely by in-kind and monetary donations as well as additional fundraisers. QCC students, staff and faculty who are in need are invited to visit the pantry, located in room 351A (Administration Building) on the college's main campus (670 West Boylston Street, Worcester) between the hours of:
Monday 1:30 p.m. – 5:00 p.m.
Tuesday 1:00 p.m. – 5:00 p.m.
Wednesday 1:30 p.m. – 4:00 p.m.
Thursday 8:00 a.m. – 11:30 a.m.
Use of the Quinsigamond Community College food pantry is limited to current students (with current QCC ID), staff or faculty members. All information will be kept confidential.
Those who wish to come in confidentially can call Ms. Forhan at 508.854.4411 and schedule an appointment.
For additional questions, to make a donation or to volunteer at the food pantry, please call 508.854.4411.
Learn more about Phi Theta Kappa Honor Society at Quinsigamond Community College.
*Wisconsin HOPE Lab