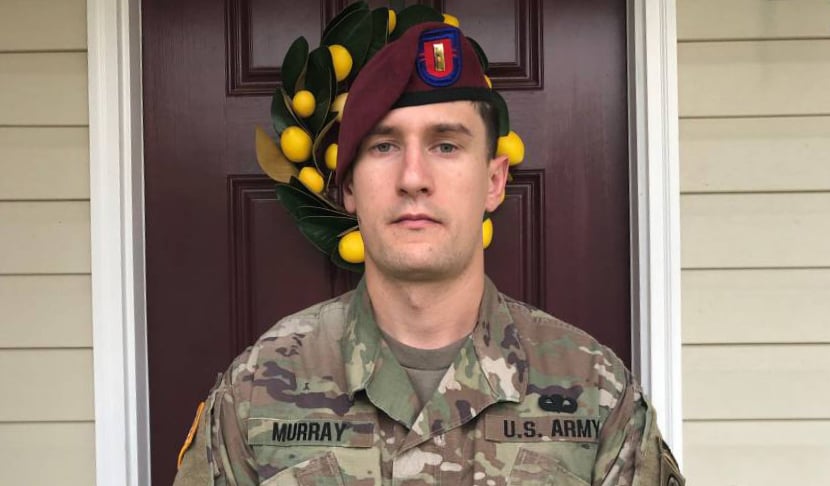 Nick Murray is stationed at Fort Bragg in North Carolina where he is a Logistics Officer and Paratrooper in the 82nd Airborne Division, US Army. He serves his country as a Platoon Leader and Maintenance Control Officer... and it all started at QCC. When he first came here, he was looking to build his GPA as well as his confidence. Coming in as a first-time college student after taking a few years off can feel intimidating, but taking that first step is really the hardest part.
"I had been out of high school for three to four years already and QCC was the perfect option to gain back confidence in myself regarding my college education, without breaking the bank," he said.

"The professors I had during my time at QCC cared about the students," he said. "Many students were in the same situation as me, a little bit older than the average person coming right out of high school, just trying to find their interests and obtain a degree. If you had questions or needed further clarification on any subject, the professors were there to help guide you."
So, he enrolled in the Criminal Justice program. While he had some family members in law enforcement, it was a new field for him and he looked to his professors for guidance. The plan came together... his professors were there for him, he earned good grades, boosted his GPA and earned merit-based scholarships. In December 2013 he obtained his associate degree in Criminal Justice and transferred to Anna Maria College where he pursued his Bachelor's Degree in Criminal Justice.
"Many of my QCC professors even wrote me letters of recommendation in order for me to get into Anna Maria College and obtain several internships years later," he said. "Also, my writing skills prior to QCC were sub-par and by the time I had left, I was much more confident and prepared for transferring to Anna Maria College to obtain my Bachelor's in Criminal Justice."
After earning his bachelor's degree, he took the confidence he had built and his strong foundation and went on to earn his MBA from Anna Maria. After a short time as an insurance adjuster at Hanover Insurance, he joined the military.
"I oversee the Maintenance program, insuring that all weapons, vehicles, and equipment are readily deployable at all times. We directly support the Infantry with logistical services to help them fight, essentially. My platoon was just named the best Maintenance Program in the entire 82nd Airborne Division for the first fiscal year of 2019, which is out of 160 different programs," he proudly stated.
Nick says he wants those students who are considering attending QCC, but are afraid to take that first step to a higher education to take note of his story.
"I would tell them to not be afraid of failure. Before I enrolled in classes at QCC I personally felt terrified that I was not going to do well in my classes. After my first semester of classes, I had straight 'A's' and found myself graduating with High Honors and being part of the Phi Theta Kappa Honor Society," he said. "It really is all about how you apply yourself and your eagerness to learn. You can only help yourself by enrolling now, because you will only wish you did sooner down the road."