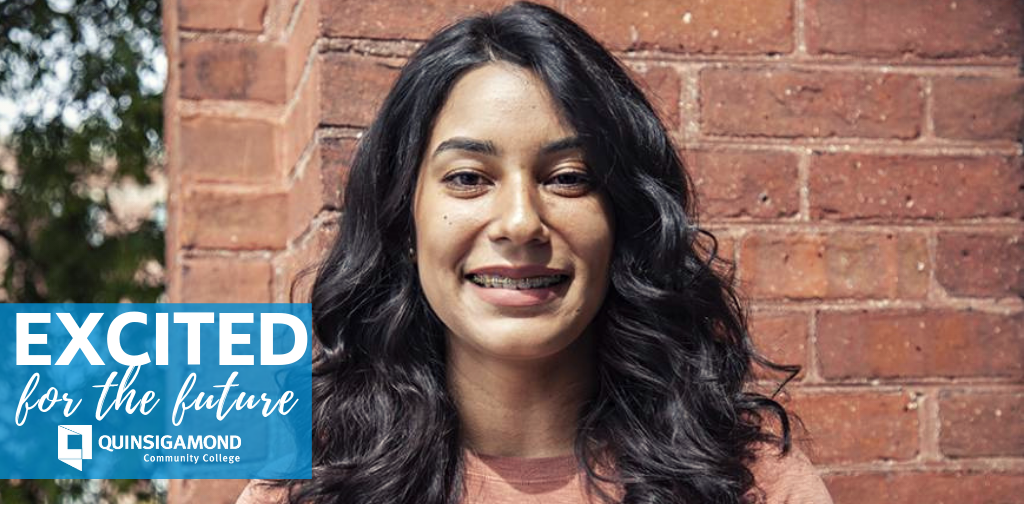 You can see it in her eyes...it's pure excitement for the future, and she's ready for it. Jatnna Perez is a Quinsigamond Community College healthcare student poised to graduate in May with her associate degree in public health. Jattna came to the US from the Dominican Republic in 2012. She attended high school in New York and moved to Worcester shortly after graduation.
She was driven to continue her education and attend college, but new to the area. After a little research and a campus tour, she had made up her mind and enrolled at QCC.
"When I first came here I knew right away that I wanted to be a student.The campus has such a great vibe and feels so welcoming," she said. "The college has many great programs that are flexible and very affordable compared to other schools."
She initially enrolled in the general studies program, that is until she met with Professor, Hirul Patel. Hirul is an Associate Professor of Chemistry, a Faculty Advisor and a favorite among the students. He encouraged her to take something more specific and with a strong interest in biology and her love of the community, public health seemed like the right fit. She took a global public health course and loved it, decision made! She quickly earned her Public Health Certificate, before continuing on to get her associate degree.
Jattna is now working full-time as a pharmacy technician at Walgreen's in Worcester, and in the final phases of her public health cooperative externship with New England Donor Services. New England Donor Services coordinates organ and tissue donation in New England and Bermuda. They serve thousands of families each year who are working to honor the wishes of their loved ones to give the gift of life. She originally heard about the organization through one of her professors, Anne Marie Winslow.
"Organs are scarce, so many people die while waiting for a liver transplant. Living liver donation is a hope for many. I shared with several of my students my passion for organ donation," Ms. Winslow said.
Jattna was immediately interested, so Professor Winslow put her in touch with Jennifer Cray, Volunteer Services Program Manager at New England Donor Services, who was able to help her get setup as an event volunteer. Jattna is now an advocate for organ donation, participating in events throughout Worcester, informing people on the merits of tissue and organ donation.
"I try to educate people to get them to sign up and become organ donors," she said, adding, "QCC has many professors who do more than teach a subject. One of the main things I will take away with me after I graduate is all the encouragement and support I have gotten from my professors here."
After graduating her hopes are to begin working in a public health position that will allow her to "put into practice" what she has learned here and continue to pursue her bachelor's degree.
"The best thing about QCC is that it is a school for everyone regardless of their age, income or background. The college has room for everyone who wants to succeed. There is support here to help everyone grow and boost their career paths," she said. "This place is very special to me. I've learned so many things and grown as a student."