Baked French Toast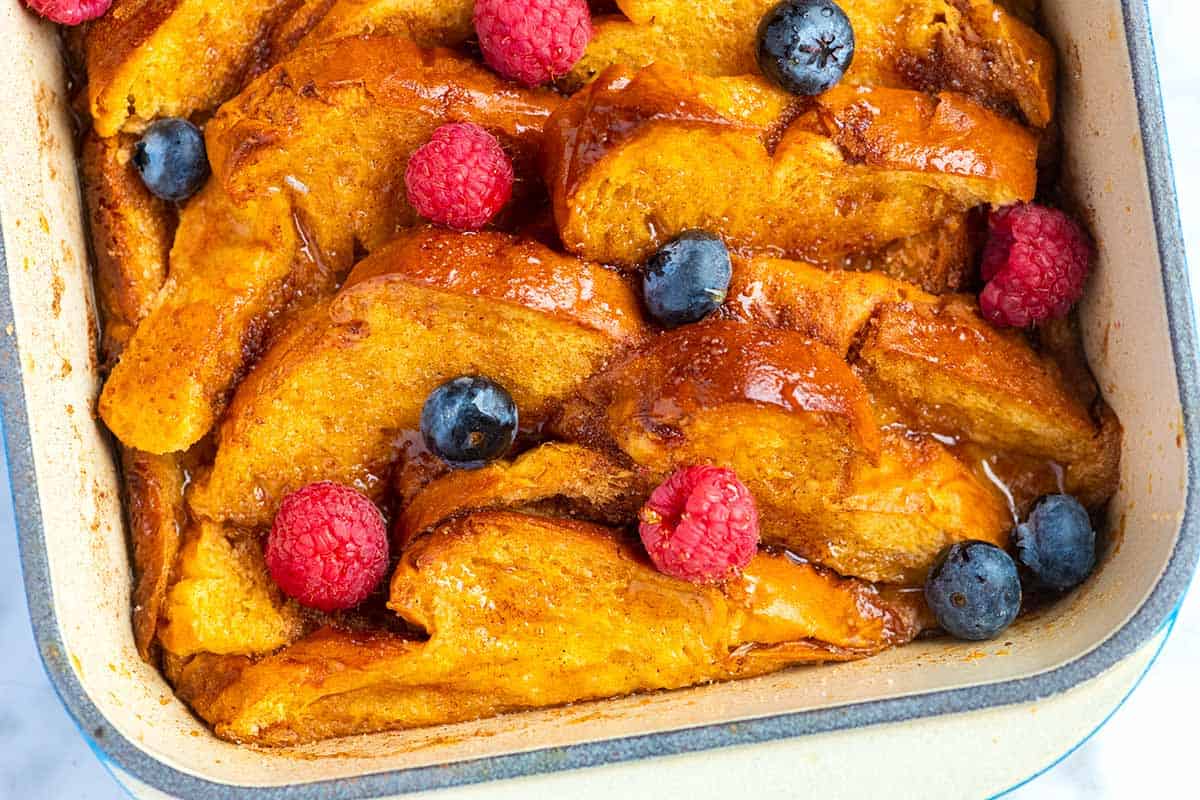 Any other year at this time, you may have been getting ready for a big family breakfast or dinner for Easter or Passover... but this isn't every other year. This is this year and we just don't have that luxury. If you are looking for something hot and delicious to try for a special quarantine breakfast, the QCC Veteran Affairs office has a good one today!
Ingredients:

8 ounces day-old French bread, unsliced
4 large eggs
2 tablespoons sugar
1 tablespoon brown sugar
2 teaspoons vanilla extract
1 teaspoon maple extract
1/4 teaspoon kosher salt
2 cups whole milk
1/2 cup heavy whipping cream

Topping:

1/4 cup all-purpose flour
3 tablespoons brown sugar
3 tablespoons unsalted butter, cut into 1/4-inch cubes
1 teaspoon ground cinnamon
Freshly grated nutmeg, optional
Fresh blueberries or raspberries
Confectioners' sugar
Directions:
Cut bread into 1-in.-thick slices. Arrange in a single layer in a greased 13x9-in. baking dish. Lightly beat next 6 ingredients; stir in milk and cream. Pour egg mixture over bread, turning once to coat. Refrigerate, covered, overnight.
Preheat oven to 375°. Turn bread again to coat.
For topping, combine flour, brown sugar, butter, cinnamon and, if desired, nutmeg. Sprinkle flour mixture over bread.
Bake, uncovered, until a knife inserted in center comes out clean and topping is golden brown, 40-45 minutes.
Let stand 10 minutes before cutting.
Top with blueberries or raspberries; sprinkle with confectioners' sugar. (optional)

Test Kitchen tips
Top this decadent French toast with whatever fruit is in season. Go with berries in the spring, stone fruit in summer, apples or pears in fall, and citrus in winter.
Switch it up by using brioche or challah in place of French bread. Or go all-out with thick slices of cinnamon-raisin bread.
Nutrition Facts
1 serving: 297 calories, 15g fat (8g saturated fat), 128mg cholesterol, 299mg sodium, 32g carbohydrate (15g sugars, 1g fiber), 9g protein.