Cinnamon Crumb Banana Bread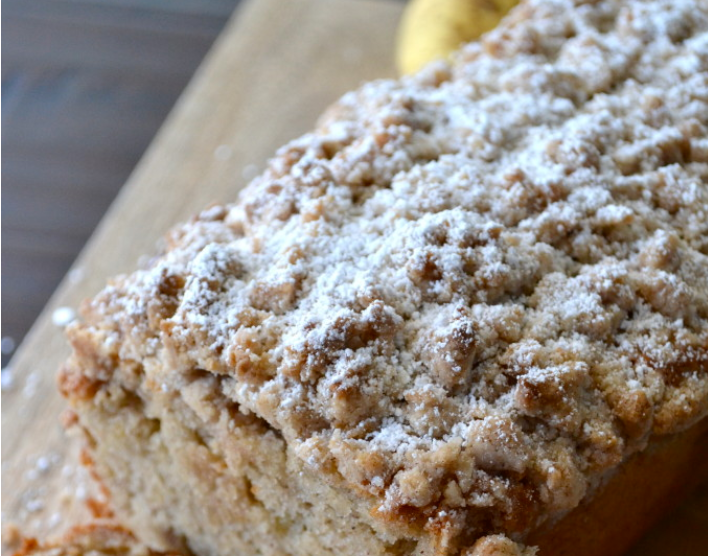 Switching gears a bit for something on the sweet side. We think you'll go BANANAS :) If you like coffee cake and banana bread then brace yourself for the best of both worlds. You might want to make two while you're at it because your family will be asking for more. You can also slice it and freeze it to enjoy another day. Ready? Here we go...
Ingredients:
1 egg
1 cup sugar
1/2 cup unsalted butter, at room temperature
1 teaspoon vanilla
1/2 cup buttermilk
2 overripe bananas, mashed
2 cups all purpose flour
1/2 teaspoon salt
1/2 teaspoon baking soda
1 teaspoon baking powder
1 teaspoon cinnamon
Crumb Topping:
1/2 cup powdered sugar
1/2 cup all purpose flour
4 tablespoons unsalted butter, melted
1/2 teaspoon cinnamon
pinch of salt
Instructions:
In a large bowl of a mixer, fitted with a paddle attachment, beat together the sugar, egg and vanilla until combined. Add the butter and beat until smooth and the butter is fully incorporated. Beat in the buttermilk and bananas.
In a separate bowl, mix together the flour, salt, baking soda, baking powder and cinnamon. Slowly stir the dry ingredients into the wet until all the flour is incorporated. Spray a loaf pan with non-stick spray and pour in the batter. * Note that not all loaf pans are the same size. You may have extra batter, so just pour in enough so there is still about an inch or 2 of space before the top of the pan.
Make the crumb topping by combining the powdered sugar, flour, cinnamon salt and melted butter. Using your hands, crumble the mixture over the batter in the pan. Bake in a pre-heated 350 degree oven for 45 – 50 minutes or until a toothpick comes out clean.