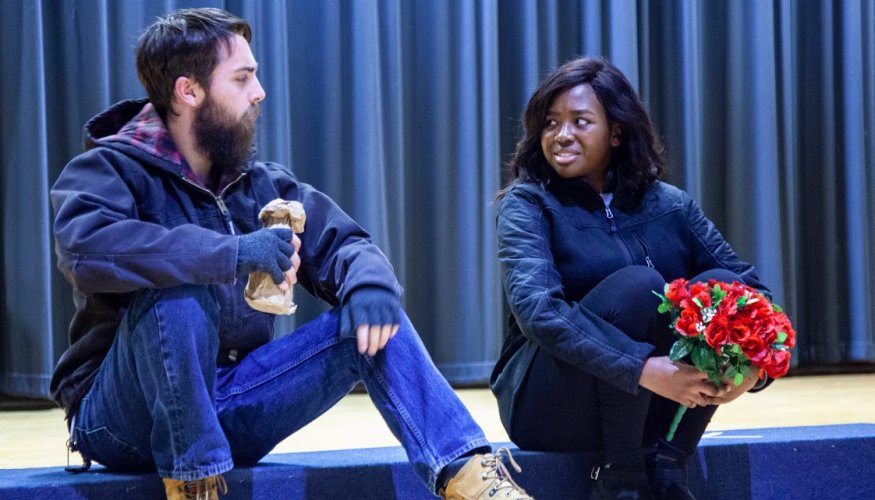 "SLICES OF LIFE - An Evening of Original Works," is just what it sounds like... an evening of original works. Actually, it's five evenings. Starting on November 28, Quinsigamond Community College's theater department will perform five original short plays, completely different from one another, all in one captivating performance. The common theme between all five short plays? Relationships. QCC Play Director Kelly Stowell, said the plays were written by student playwrights and submitted to the regional Kennedy Center American College Theater Festival (KCACTF), a national theater program.
Ms. Stowell reached out to them with a request to review a variety of student submitted plays to consider for the Fall production. From there she chose five socially relevant, diverse plays geared toward "young people," she said.
Here's what she chose: "Paper Planes," by Michael Pisaturo; "Occupy Hallmark," by Casey M. Senuik; "Fair Play," by Shaquielle Edwads; "Legs," by Hanna Byrmen, and "Color Me Complete," by Rose-Emma Lambridis.
Once the plays were chosen, it was time for a casting call. The entire cast is made up of QCC students (including two understudies). Not only was no one was double-cast, but also almost all of the actors are new to our theater productions.
This will also be the first time the theater group will be collaborating with another department on campus - QCC's Fab Lab. The staff at the lab helped students build rehearsal/ theater blocks for the play. They are used as props and help performers act out their scenes.While this play does not require much in the way of set design, Ms. Stowell said the blocks are a tremendous help. She also noted that the relationship they have made with the Fab Lab is the perfect tie-in to what the actors are demonstrating in the play – relationships and interpersonal communication.
This is also the first time a theater production is working with the Media Services Department. There's a few students interested in lighting and sound that will get the opportunity to shadow them and learn more about light design and sound.
"Slices of Life" Showtimes:
November 28, 29, 30 and December 1 at 7:00 p.m.
December 2 at 2:00 p.m.
Location: Hebert Auditorium (670 West Boylston Street, Worcester)
Tickets are $5, open to the public.

QCC student Veronica Wiley is the stage manager and student Hailey Shea is the assistant stage manager. Assistant Director Amber Charest is a QCC alumnus.
Cast members include:
OCCUPY HALLMARK
Moose: Nate Wilson
Salty: Lola Balogun
COLOR ME COMPLETE
Red: David Rodriguez
Gray: George Baraklilis
PAPER PLANES
Chandler: Xavier Franceschi
Stella: Tris Sackman
LEGS
Maya: Maya Bastian
Vicky: Melesia Swanston Alonzo
Man 1: David Rodriguez
Man 2: Liam Doherty
Man 3: Xavier Franseschi
FAIR PLAY
Kevin: Spencer Edwards
Marlene: Diana Alarcon
Understudies:
Margarita Fabre
John Bacellis
Learn more about Quinsigamond Community College's Theater Program here!