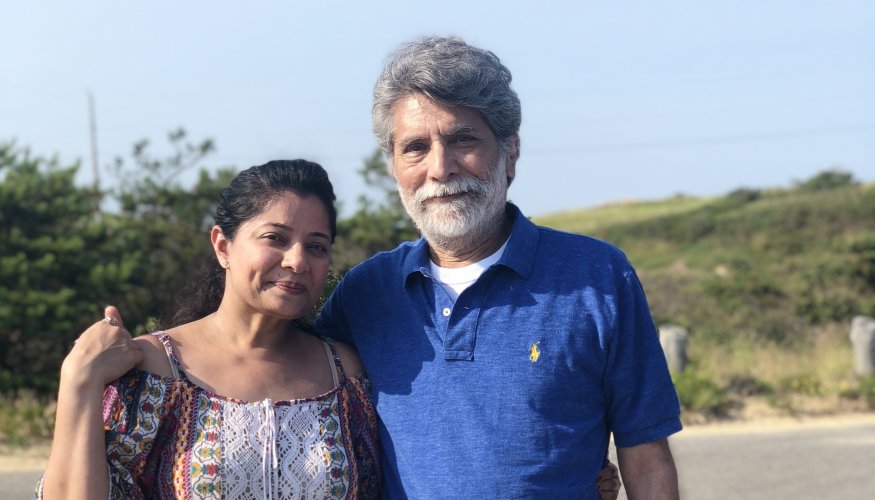 Hirul and Dilip Patel
You many have heard people discuss the special bond that often happens between a father and daughter. For many, the bond is something that cannot accurately be described but is nonetheless unbreakable.
No one know that better than Chemistry Professor Dr. Dilip Patel and his daughter, Assistant Professor of Chemistry (and Chemistry Coordinator) Hirul Patel. The Patels have been working as QCC's chemistry dynamic duo in the college's chemistry department since 2012.
Dr. Patel began teaching at QCC in 2006 and his daughter followed in his footsteps six years later. The younger Professor Patel began her career working in a pharmacy before following her heart and her love for teaching, a profession she had aspired to from a young age.
"For me teaching always was my true passion. Even as a little girl I'd teach to imaginary students," she said. "My grandfather was always a teacher so I grew up with it."
While Ms. Patel took a different route initially, the opportunity eventually presented itself for her to apply to teach at QCC- a place that was familiar to her since she had attended QCC and her father also taught there.
The senior Professor Patel removed himself from any decision making process and the younger Patel was interviewed by the college's search committee. They felt Ms. Patel was the best candidate for the job and she was hired in June, 2012.
So just what is it like to work with your dad or your daughter? In a word…GREAT.
Today, both father and daughter say that working together brings an added cohesiveness to their work that transcends a more traditional, non-familiar professional relationship.
"During work time and after work we exchange thoughts and ideas. We discuss the strengths and weaknesses of our students and their individual learning styles, so that there is a cohesiveness between our courses," Dr. Patel said. "We make changes to a course and add or delete things to meet students' needs."
"It's definitely very convenient and communication is much easier. There are no time constraints. A thought might pop into my head or his head at night and we can discuss it," Professor Hirul Patel said.
The camaraderie and teamwork is evident in the way Professor Hirul Patel was able to transition into the role of coordinator for the chemistry program.
"Before I became coordinator he did all the work. I was able to step in seamlessly," she said.
Asked if there are negatives to working with a parent or child, both Patels were quick to say there was none.
"We both understand each other's boundaries and respect them. We have a professional relationship at work, as well as a personal one that combines the best of both," Professor Hirul Patel said. "We are a team, there's no competition."
"We do sometimes have a healthy argument at the dinner table and then we decide what the best answer is," Dr. Patel said, adding, "We are free to discuss things and there is no professional rivalry at all."
The Patels' feel their students have benefited from the "two for one" professors.
"We're more open with each other and we really gain a lot of strength from each other and the way we teach is similar, which brings that level of consistency to our students," Professor Hirul Patel continued. "There's a consistency in the teaching. There are no huge differences when you go through the (chemistry) program.
Interested in learning more? Follow these links to learn more about QCC's Chemistry and Pre-Pharmacy programs?