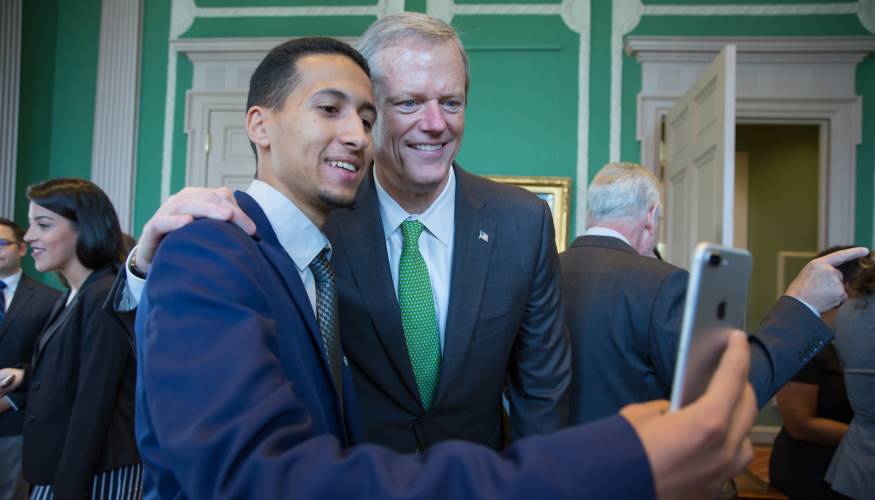 The people have spoken and the students have made their choice, Mustafa Boweden. Mustafa now holds the responsibility of being Quinsigamond Community College's student trustee for the coming year. He will serve on the 11-member Board of Trustees acting as a representative for the student body for a one-year term and also serve on the Strategic Planning Committee.
"I've been to my first meeting of the trustees and I love it. I'm excited to be part of the team and representing our student body," he said.
Mustafa and his family moved from Libya in 2014 and began taking classes part-time at QCC in the Fall of 2017. He has already become a recognizable figure to students, faculty and staff on campus. His familiar, smiling face can often be spotted at campus events with his two brothers, who are also students. Prior to being elected, he was the 2018/2019 Vice President of the Student Government Association. So, what's on the agenda? One of his main goals is to work on engaging students beyond the classroom and getting them more involved in sports and activities.
"If you look at our campus you can see it is very inclusive, diverse and has a fine infrastructure. The college is so successful in developing academic programs and I would like to help take that even further by enhancing the student experience and increasing extra-curricular activities," he said. "When students have other things to do in addition to academics, they become more vested in college and that can help with retention. We already have more resources than a lot of other community colleges and I'd like to increase this."
In fact, he has already worked to uncover enough interest to start a men's soccer team, starting Fall 2019. We already had a women's team, but no men's team... until now. When Mustafa came to the United States, soccer helped him acclimate, meet friends and socialize, which is so important. So, he set his mind to it, worked hard and got it done. He's also looking to get more students involved in and excited about student government.
"I also want to help students get involved in administration on campus. This would look great on their resumes and help them when they go into the workforce," he said.
He's got a lot to accomplish in his one year term, but if anyone has the drive to get it done, it's Mustafa.
"As a representative for the students I hope to provide them and the Board of Trustees with needed information to help advance the mission of the college," he said, adding, "It's going to be very hard to leave here."
Mr. Boweden is a General Studies major who plans to transfer to a four-year college when he graduates QCC and major in international law.