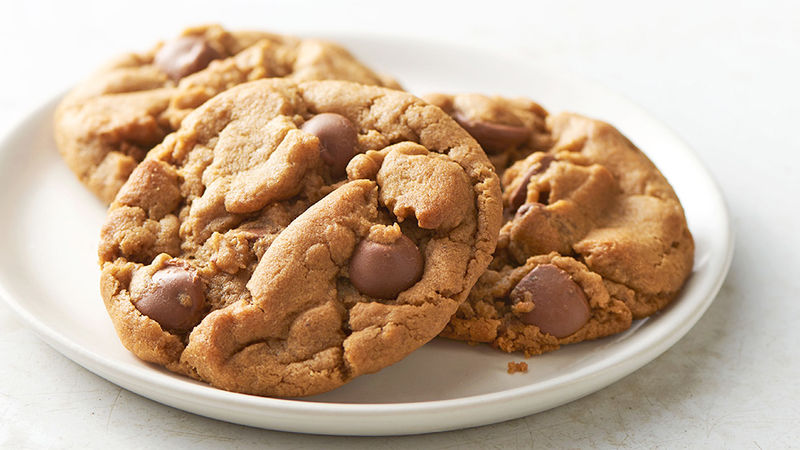 OK, so it might not exactly be 'baking weather' outside, but that doesn't mean we can't enjoy a good peanut butter cookie... right? Whether you bake them up yourself, swing through your favorite bakery or grab a package off the grocery store shelf, National Peanut Butter Cookie Day is a good excuse to indulge. These sweet, delicious American favorites have been filling cookie jars and lunch boxes for over one hundred years and have been prepared more than a hundred different ways. You can roll them out, press them with a fork, or bake and eat in whatever shape they fall on the pan. No matter how simple (or complicated) you like your dessert, this 5-ingredient recipe, recommended by our Hospitality Program, is a great place to start.
While your cookies are in the oven, take a minute to go NUTS over our suggested twists on a classic cookie. See below :)
Ingredients:
cup firmly packed brown sugar
cup milk (or dark) chocolate chips
Steps
1. Preheat oven to 350°F. Mix all ingredients except chocolate chips. When blended, mix in the chocolate chips.
2. Using your hands, form twelve 1 1/2" balls (dough will be very sticky) and place onto an ungreased parchment lined cookie sheet. Don't make them too big because they do spread.
3. Bake 9 minutes. Let cookies sit on cookie sheet for about 30 seconds to 1 minute before removing to cool on a wire rack.
Suggested variations:
Looking for ways to put a spin on an old fashioned American favorite? Try these recommendations from QCC's Hospitality Program:
Top with a Hershey's kiss
Dip in Nutella
Make your own ice cream sandwich
Add peanut butter cups... inside or on top
Make s'mores! Use a PB cookie instead of a graham cracker
Now that you're thinking about food, maybe you'd like to check out what you could learn in our Food Service and Hospitality Management Programs!